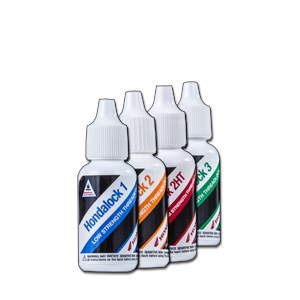 click on image for larger view
Product Description
Hondalock 1 – Low-strength, blue colored threadlock for frequently removed and/or low-torque fasteners. Protects against corrosion and wear. Resists vibration, moisture and most chemicals.
Hondalock 2 – Medium-strength, orange-colored threadlock for medium- torque fasteners.
Hondalock 2HT – High-temperature, red-colored threadlock for medium-torque fasteners in high-temperature applications such as cylinder head exhaust studs.
Hondalock 3 – High-strength, green colored threadlock for semipermanent and or high-torque fasteners. Helps retain gears, bearings and pulleys to their shafts.